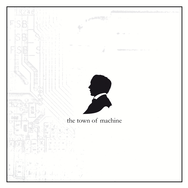 The Town Of Machine - Self Titled
Yes, a new flagship leaves the Bremen harbour. It carries tons of tragic and raises a heart-shaped fist.
They put together all their frustration and fear and anger and passion and started writing this hearted record. The most inspiring record of it´s genre (some might brand as screamo) since the dead end of yage, jet black and so on. This record will be released in November 2009.
7" in 2sided gatefolded cover.
Cat.no.: ud029
Pressing: 200 7"
Date: 11/2009
Sold out. No repress.
Tracklist 7": A1.Monastery B2. Zuhause
Tracklist CD-R: 1. Like Hiding Behind Windows 2. X Plus 1 3. Zelluloid 4. Monastery 5. Zuhause
Specification: Gatefold cover, including 2 new tracks on a 45rpm- vinyl, three photographs with lyrics and information, a 5- track cd with both tracks from the vinyl plus 3 remastered ones previously released on our demo packed in a folded lyricsheet...holy moly! Artconcept and design by Danny Blase and David Wickremetunge.
Available as digital release.
---
---